A leading manufacturer and factory in the packaging industry, we have extensive expertise in corrugated box production.
Technical Details and Structural Integrity: Corrugated boxes derive their strength from the unique design of the fluted layer. The flutes are available in various sizes, such as A, B, C, E, and F-flutes, with different profiles that cater to specific packaging requirements. For instance, boxes with larger flutes (A and B-flutes) offer superior cushioning and shock absorption, making them ideal for delicate and fragile items. On the other hand, boxes with smaller flutes (C, E, and F-flutes) provide enhanced stacking strength and crush resistance, making them suitable for heavy items and efficient palletization during shipping.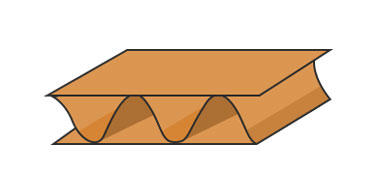 Case Study: Improved Packaging Reduces Product Damage: A case study conducted by a leading e-commerce retailer showed a significant reduction in product damage when they switched to corrugated box packaging with customized inserts. The fluted layer's cushioning properties, combined with foam inserts, ensured that products arrived in perfect condition, resulting in a 30% decrease in return rates and increased customer satisfaction.
Eco-Friendly Initiatives and Recyclability: Our commitment to sustainability and eco-friendly practices is evident in our production processes. We actively use recycled content in our corrugated boxes, contributing to a circular economy. According to a recent industry report, corrugated packaging has one of the highest recycling rates, reaching over 85% in North America. By recycling corrugated boxes, we collectively save millions of trees each year, making it a greener choice compared to other packaging materials.
Example: Customized Branding Drives Sales: A notable example from the food and beverage industry showcased how custom printing and branding on corrugated boxes significantly boosted sales. By incorporating vibrant graphics and engaging product information, the brand experienced a 15% increase in consumer interest and a higher likelihood of repeat purchases.
Advancements in Digital Printing Technology: The packaging industry has witnessed remarkable advancements in digital printing technology, allowing for high-quality and cost-effective printing on corrugated boxes. Digital printing eliminates the need for printing plates, reducing setup costs and enabling shorter print runs. This technology facilitates the printing of variable data, enabling product personalization for targeted marketing campaigns.
Data-Driven Design Optimization: As a manufacturer, we leverage data and conduct thorough analyses to optimize the design of corrugated boxes. Finite Element Analysis (FEA) is employed to simulate stress distribution during various shipping and handling scenarios, ensuring that our boxes meet the highest industry standards for performance and durability.
Innovative Sustainable Materials: Our R&D team continuously explores innovative and sustainable materials for corrugated box production. We are experimenting with bio-based resins and biodegradable coatings to further enhance the environmental friendliness of our packaging solutions.
Supply Chain Efficiency and Cost Savings: Beyond protecting products, corrugated boxes play a vital role in optimizing supply chain efficiency. Their lightweight nature helps reduce transportation costs, while stackability ensures more efficient use of warehouse space, leading to substantial cost savings.
By combining cutting-edge technology, data-driven design, and a commitment to sustainability, Tiansan take pride in delivering top-quality corrugated box packaging solutions that cater to the diverse needs of our clients.