In the dynamic realm of packaging solutions, manufacturers face a critical choice: custom packaging tailored to their unique brand and product needs, or standard solutions that offer cost-efficiency and convenience. This decision carries profound implications for brand identity, customer experience, and overall success.
Custom Packaging: Tailored to Your Brand and Product
Custom packaging, with its unique design and manufacturing approach, offers manufacturers a range of benefits that can elevate their brand and product protection.
Benefits of Custom Packaging:
Branding Power: Custom packaging transforms your product's outer shell into a powerful branding tool. Consider the iconic Tiffany & Co. blue box, which instantly conveys luxury and elegance, demonstrating how custom packaging can strengthen brand recognition.
Product Protection: Custom packaging is engineered to precisely fit your product, providing an unparalleled level of protection during shipping and handling. This reduces the risk of damage and, subsequently, the number of product returns, saving you both money and reputation.
Enhanced Customer Experience: Innovative, personalized packaging can turn the act of unboxing into a memorable experience for customers. Apple's sleek and minimalist product packaging is a prime example, creating a sense of anticipation and satisfaction that fosters brand loyalty.
Competitive Advantage: In a crowded marketplace, custom packaging is your secret weapon. It grabs the attention of potential customers and sets your product apart from the competition. Think of how Coca-Cola's iconic contour bottle shape is synonymous with the brand, showcasing the power of distinctive packaging.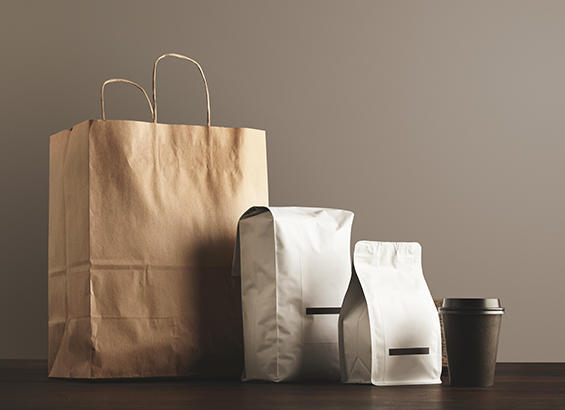 Sustainability Focus: Custom packaging can be engineered with sustainability in mind, demonstrating your brand's commitment to environmental responsibility. The use of eco-friendly materials and efficient design can reduce your carbon footprint.
Real-World Example: Apple's custom packaging design not only provides exceptional protection but also enhances the unboxing experience. The presentation of their products reflects their commitment to excellence and innovation.
Considerations for Custom Packaging:
Cost and Lead Time: Custom packaging may involve higher upfront costs due to design, prototyping, and manufacturing. It also typically requires more lead time, which is essential to consider for just-in-time production.
Standard Packaging: Economical and Convenient
Standard packaging, with its readily available and cost-effective solutions, has its own set of advantages for manufacturers.
Benefits of Standard Packaging:
Cost-Efficiency: Standard packaging options are budget-friendly, making them an attractive choice for cost-conscious manufacturers.
Quick Turnaround: Ready-made standard solutions are readily accessible, ensuring faster product delivery, which can be crucial for meeting customer demands.
Consistency: Standard packaging provides a consistent, uniform appearance. This predictability can be advantageous for industries where maintaining a reliable image is vital.
Real-World Example: In the e-commerce industry, Amazon's standard cardboard boxes are a prime example of how standard packaging solutions can offer cost-efficiency and a consistent, recognizable appearance.
Considerations for Standard Packaging:
Limited Branding: Standard packaging may lack customization options and branding opportunities, which could be a drawback for manufacturers looking to convey a unique brand identity.
Less Protection: Standard packaging might not offer the same level of protection for unique or fragile products. This can lead to an increased risk of product damage during transit.
Limited Differentiation: In competitive markets, standard packaging may not help your products stand out, as it lacks the distinctiveness of custom print packaging.
Making an Informed Choice for Your Manufacturing Business
The choice between custom and standard packaging is multifaceted and depends on several factors unique to your business.
Brand Identity: Consider your brand's core values, and whether conveying a unique identity is a critical element of your packaging.
Product Characteristics: Analyze the nature of your products; do they require special protection, and is customization essential for their safety?
Competitive Environment: Evaluate the level of competition in your market and whether your packaging can serve as a differentiator.
Budget and Lead Time: Consider your budget and production timelines, as these factors will affect the feasibility of custom packaging.
Hybrid Approach: In some cases, adopting a hybrid approach—utilizing standard packaging for certain products and custom solutions for others—can strike a balance between cost-efficiency and brand enhancement.