Corrugated materials, often referred to as "corrugated board," are engineered for exceptional structural integrity. Their design comprises three key components:
Liner Boards: These are the flat, outer layers of the corrugated board. They provide a smooth surface for printing, enhance the box's appearance, and contribute to its overall strength.
Fluting: The inner layer, known as fluting, is the corrugated part of the board. Fluting comes in different profiles (A, B, C, E, and F), each with unique properties. For instance, the C-flute is the most common choice, offering a good balance between cushioning and stacking strength.
Adhesive: To hold the layers together, a specially formulated adhesive is applied between the liner boards and fluting. The choice of adhesive can impact the box's performance, such as its resistance to moisture or extreme temperatures.
Single-Wall Corrugated: Efficiency Meets Protection
Single-wall corrugated materials are a popular choice for RET boxes. They strike a balance between protection and cost-effectiveness. The single layer of fluting provides sufficient cushioning and protection for a wide range of products, making it suitable for various industries, from e-commerce to retail.
Double-Wall Corrugated: Enhanced Strength
When added strength is essential, double-wall corrugated materials step in. These materials consist of two layers of fluting separated by three liner boards. This construction significantly increases the box's strength and stacking capability, making it ideal for heavier or fragile items.
Triple-Wall Corrugated: Ultimate Protection
For the most demanding packaging requirements, triple-wall corrugated materials are the answer. They feature an extra layer of fluting, offering unparalleled protection for large, heavy, or high-value items. RET boxes made from triple-wall corrugated materials are used in industries such as automotive, industrial equipment, and electronics, where protection during transit is paramount.
Case Study: Choosing the Right Corrugated Material
Let's consider a real-world example. A manufacturer of high-end electronics components faced a packaging challenge. They needed to protect sensitive electronic components during international shipping, which involved exposure to varying humidity levels and potential rough handling.
After extensive testing, it was determined that double-wall corrugated materials with a high-quality moisture-resistant adhesive were the ideal choice. This combination provided the necessary structural strength to withstand impacts while safeguarding the components from moisture-related damage during transit.
Eco-Friendly Corrugated Solutions
Sustainability is a top priority in today's packaging industry. Corrugated materials align with these concerns in several ways:
Recyclability: Corrugated materials are highly recyclable. According to industry data, more than 90% of corrugated materials are recycled.
Biodegradability: In landfills, corrugated materials break down naturally and rapidly, minimizing their environmental impact.
Renewable Resources: Corrugated materials are primarily sourced from sustainable, renewable forests, ensuring a responsible supply chain.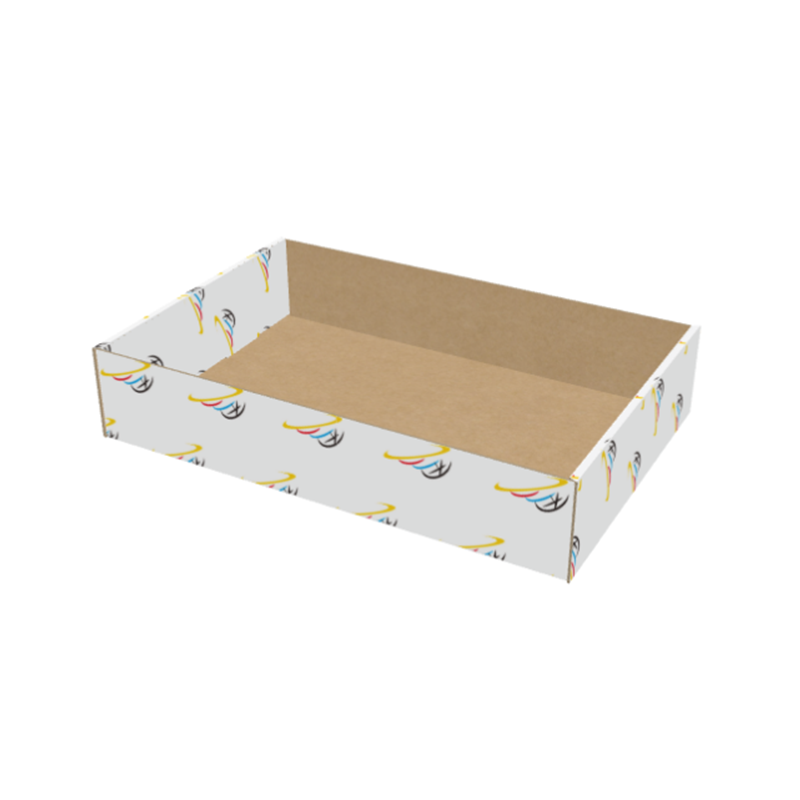 Customization for Brand Enhancement
Beyond material selection, customization plays a pivotal role in creating unique RET boxes that resonate with your brand and engage customers. Here are some examples:
Printing Options: Advanced printing techniques such as high-resolution digital printing and offset printing allow for intricate designs, vibrant colors, and sharp graphics.
Coatings: Applying coatings like matte or gloss finishes not only enhance aesthetics but also provide additional protection against moisture and scuffing.
Die-Cutting and Embossing: These techniques can add a tactile and visual dimension to your RET boxes, making them stand out on the shelf.